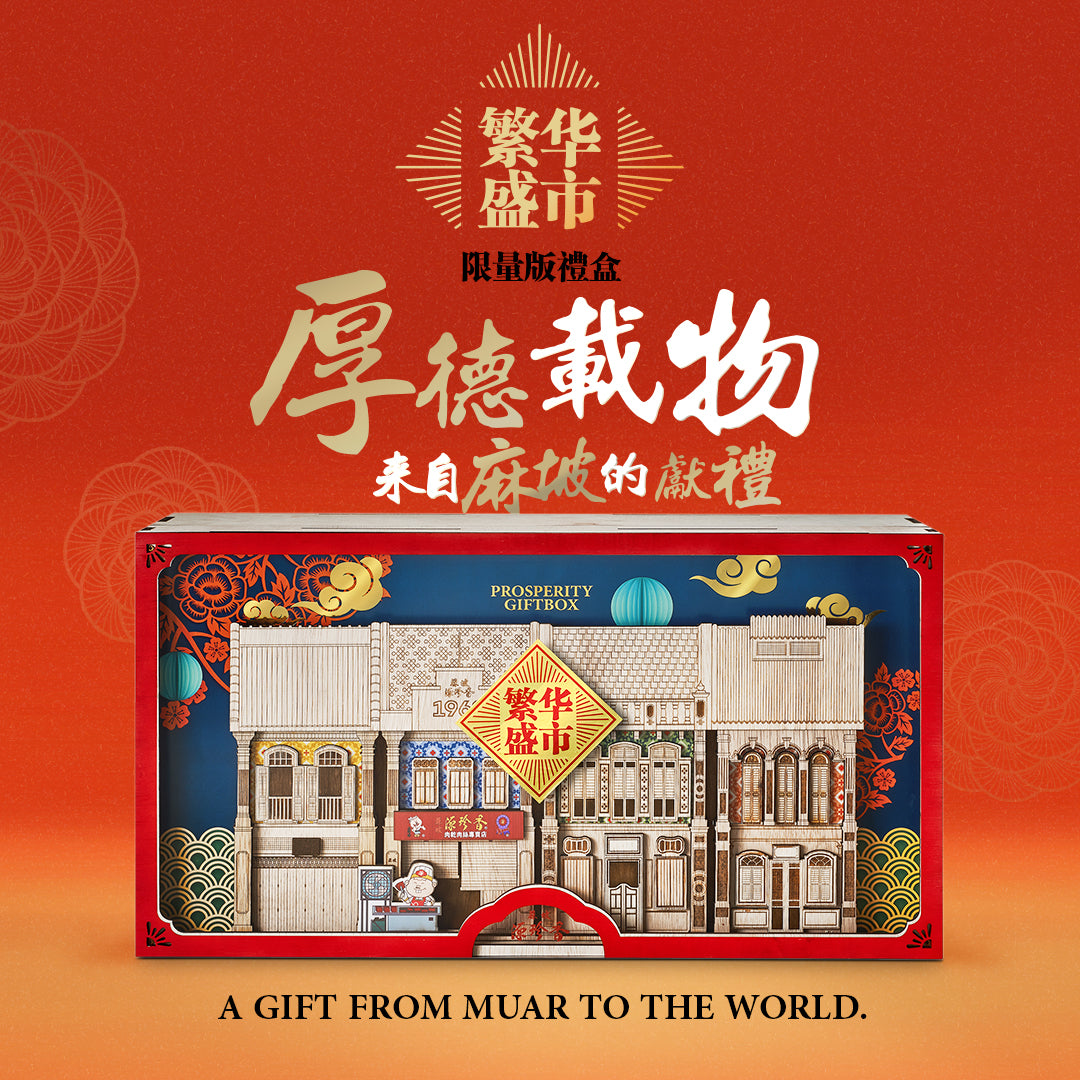 Prosperity Premium Giftbox (Limited Edition)
繁华盛市(限量版)
Muar is one of the oldest towns in Malaysia. This place greatly influenced the socio-economic status in Johor during the British colonial times as the Muar river became the waterway for traders travelling to and fro the South China Sea and the Straits of Melaka.
This Prosperity Premium Giftbox is engraved with the scenery of shophouse on the streets of Muar exhibiting two architectural styles, the Straits Eclectic and Art Deco.
The streets of Muar depict a flourished city, wishing the New Year be filled with cheer, blossoms and prosperity.
麻坡是马来西亚最古老的城市,麻河是古代商人从南中国海通往马六甲海峡的出口,因此麻坡成为贸易港口,在英殖民时代,麻坡也是当时柔佛经济活动最旺盛的都市。
此至尊礼盒采用木质刻上麻坡街景,展现的是海峡折衷式及装饰艺术式两种风格建筑。这麻坡街景重现当年的繁华盛世,祝愿新的一年,欣欣向荣,繁花似锦,歌舞升平,门庭若市。
*ALL BUILDINGS ARE FOR ILLUSTRATION PURPOSES ONLY. ALL FACADES ARE NOT INTENDED TO DEPICT THE ACTUAL BUILDINGS AND SHOULD NOT BE RELIED UPON AS A REFERENCE.
Contains 内含:
Royal Salute 21-Year-Old Blended Scotch Whisky 700ml, 1 btl
皇家礼炮21年苏格兰威士忌700毫升,1支
Worth 价值:RM739
Artisanally Crafted 3-D Wooden Gift Box, 1 pc
至尊木制立体礼盒,1个
Worth 价值:RM388
Size 尺寸:61cm (L) x 33cm (W) x 21cm (H)
4-head Braised Abalone in Brown Sauce, 1 can (1 pc)
4头金皇牌南非红烧鲍鱼,1罐(1只)
Worth 价值:RM20
6-head Braised Abalone in Brown Sauce, 1 can 

 (1 pc)


6头好栈记上品红烧鲍鱼,1罐(1只)
Worth 价值:RM20
Edible Bird's Nest, 2 pcs
燕盏,2片
Worth 价值:RM150
Dong Po Meat Jerky 500g, 1 box
东坡肉干 500克,1盒
Worth 价值:RM83
Sliced Meat Jerky 500g, 1 box
高级肉干500克,1盒
Worth 价值:RM70
Original Pork Floss 200g, 1 can
猪肉松200克,1罐
Worth 价值:RM26
BBQ Pork Floss 200g, 1 can
丝丝入扣200克,1罐
Worth 价值:RM26
Total Value: RM1522
礼盒总价值: RM1522